Following the news that Saul Canelo Alvarez and Caleb Plant will face off in the ring, boxing fans are discussing whether or not Alvarez, the sport's pack leader, can handle Plant, a young gun super middleweight. Check out Canelo Plant odds to wager the right pick.
The bout is set to take place on November 6 in Las Vegas. Boxing fans and those who are interested in the most common boxing bets will be looking for the best sportsbook odds they can use when betting on the fight. To begin, it's worth looking at the 'Tale of the Tape' to get a sense of what these two boxers bring to the table and what will be on the line when they do battle in the boxing ring.
Saul "Canelo" Alvarez continues his efforts to become the best pound-for-pound boxer on the planet. And he unquestionably deserves to be listed among the finest who ever lived. Alvarez has a great chance to continue his legacy as he faces Caleb Plant for the undisputed super middleweight championship, with the winner taking home the WBA, WBC, WBO and IBF titles.
The undisputed championship bout is set for November 6 at the MGM Grand in Las Vegas and will be broadcast on DAZN and Showtime PPV. When it comes to Canelo vs Plant betting odds, Alvarez is the favorite. At their press conference, the two men have already clashed, albeit briefly.
Canelo Alvarez Fight Card
| Weight class | Fighter | vs. | Fighter | Rounds |
| --- | --- | --- | --- | --- |
| Super middleweight | Canelo Álvarez (c) | vs. | Caleb Plant (c) | 12 |
| Super middleweight | Anthony Dirrell | vs. | Marcos Hernandez | 10 |
| Super bantamweight | Rey Vargas | vs. | Leonardo Baez | 10 |
| Super lightweight | Elvis Rodriguez | vs. | Juan Pablo Romero | 10 |
Canelo Alvarez Recent Records
Since his debut, Canelo Alvarez has been an outstanding and dominant force in the sport, and he will continue to amaze fans with his talent as he heads into what would be his 60th professional bout. The Mexican appears to be well-equipped to face Plant's challenge. He has only lost one bout in his career thus far, losing to Floyd Mayweather at Light Middleweight.
At the time, the bout was considered controversial because several judges' scores were disputed by many. Still, he has fought 59 times and won 56 of those bouts, with 38 of those victories coming by knockout and two draws. Indeed, Canelo has been on a great run recently. With the red-headed boxer having vanquished two British rivals and ended their flawless records and title reigns, he has secured his spot as one of boxing's best.
Caleb Plant Recent Records
Caleb Plant, on the other hand, is a fighter to be reckoned with, having built an exceptional professional career for himself. After being an alternate for the 2012 Summer Olympics Team USA, Plant has amassed a career record of 21 victories and no losses. In his 21 fights, he has won 12 by way of knockout. Caleb Plant's most recent fight was against Caleb Truax, in which he was able to outbox his opponent. After the 12 scheduled rounds of boxing had concluded, he won the bout by way of the judges' scorecard.
Fight Prediction
Both Canelo Alvarez and Caleb Plant are fighting for a lot on November 6 in Las Vegas, with the belts being the most valuable thing at stake. The red-headed Mexican, Canelo has recently defeated Smith and Saunders, as previously stated. This helped him capture the WBC and WBO Super Middleweight belts, and adding to the WBA title that he already held.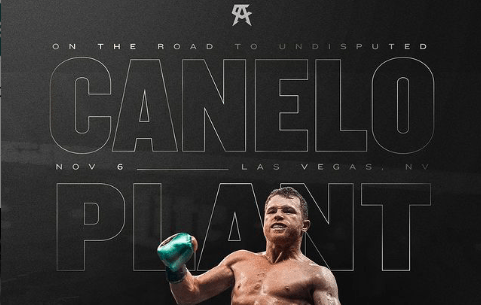 However, this bout against Plant will aid in cementing his reputation as the greatest pound-for-pound fighter presently active. While his unblemished record is on the line, Plant is the current IBF Super Middleweight champion. He also won't be willing to let the championship belt go without a fight. It will be exciting to wager on whether Canelo Alvarez will be able to beat three consecutive undefeated champions in a year, as the division's unification remains to be seen. Regardless of the outcome, Las Vegas will be making history!
Canelo Alvarez vs Caleb Plant Betting Odds Analysis
The online betting site Bet365 has posted the Canelo vs. Plant betting odds for their much-anticipated undisputed championship bout. The opening line for this bout is Canelo at -1200 as favorit, and Plant at +600 underdog. This implies that in order to profit $100 if Canelo wins, you would have to wager $1200; whereas a Plant victory would result in a profit of $600 with a $100 wager.
Despite owning a perfect 22-0 record and being the IBF super middleweight champion since January 2019, this is not Plant's first time being a betting underdog before a bout. On the night he won the title from Jose Uzcategui, "Sweethands" arrived to the ring as the plus-money alternative. However, in every other matchup where odds were available, he was the favorite.
Since Canelo is the overwhelming betting favorite in every bout, there isn't anything particularly unusual about the betting line. Despite being the underdog in his second fight with Gennady Golovkin, which ended in a majority decision. Since that GGG rematch, Alvarez has been a -500 favorite or shorter in each of his last six fights.
Canelo v Plant Odds and Preview
Plant comes with a powerful jab and is a strong boxer, especially when he has room to operate. He can often draw out an attack from his opponent with that jab, which leads to a crisp counter and often a combination that is his main technique of defeating an opponent. With his lead hand low, Sweethands has a little of Floyd Mayweather's fighting stance. That is why the jab is hard to pick up, and he rolls with strikes effectively in that Philly shell-like defense. He has trouble with quick hands and strong power, but he can usually prevent the damage by using his outstanding defensive talents.
Plant leans forward, palms down, begging his opponents to throw a head shot as he dodges the punch and attacks with this technique. Canelo Alvarez' fight IQ is so good that he will almost certainly avoid the trick and use his feet effectively to get inside rather than lunging for a KO. Alvarez should have a significant edge when he closes the distance.
There are very few boxers who can stand in the pocket and avoid nearly all of the blows coming back at him while he rips his opponent's body and prepares his knockout punch. Finally, we believe Canelo will outsmart Plant and catch him in corners at times, where he'll start picking away at the body. He'll end the night by delivering a very good performance that puts an end to the fight.
Latest posts by Content-Manager-CA
(see all)