Here is the Dallas Cowboys at New Orleans Saints betting prediction ahead of the Thursday night NFL game at Caesars Superdome in New Orleans, Louisiana. Check out all our NFL betting predictions to learn more.
Odds/Point Spread: Saints (+5.5)
Total/Over-Under: 47.5
The Dallas Cowboys enter the Thursday night game with a 7-4 record for the season. The Cowboys played the Raiders and lost by a score of 36-33 in their most recent contest last week before thanksgiving day and start of December.
Dak Prescott did a decent job against the Raiders, connecting on 32 of 47 passes for 375 yards and two touchdowns. With no interception Dak Prescott posted a quarterback rating of 106.2 in the victory.
The Cowboys' rushing attack was led by Tony Pollard, who had 10 carries for 36 yards. Michael Gallup notched 106 yards on 5 receptions while averaging 21.2 yards per catch.
The Dallas Cowboys had 64 yards on 20 attempts for an average of 3.2 yards per carry, good enough for third in the NFC East. Overall, they ran 437 yards using 68 plays, which equals a conversion rate of 70%.
The Cowboys allowed 24 pass completions on 39 passes for 366 yards, a completion rate of 61.5 percent. The Dallas Cowboys surrendered 143 rushing yards on 35 runs against, which averages out to 4.1 rushing yards allowed per carry in the NFL.
Dallas Cowboys NFL Betting
The Cowboys have accumulated 4,618 total yards this season. Dallas has recorded 165 first downs and committed 91 penalties for a loss of 816 yards.
In terms of reaching the end zone, the Cowboys have scored 24 touchdowns through the air and 10 via the ground. They've thrown 15 interceptions (eight interceptions and seven fumbles lost).
On the other hand, they average 127.5 yards rushing as a group, putting them in seventh place in the NFL. The Dallas Cowboys' 29.6 points per game mark for entering the endzone is remarkable.
The Dallas Cowboys' nfc opponents are scoring 22.7 points per game, which ranks 13th in the NFL. This season, the Dallas Cowboys have given up 4.4 yards per carry and 107.3 rushing yards on average.
The Cowboys have given up 1,180 rushing yards through 11 games. They've allowed 2,885 passing yards, putting them 25th in the NFL.
They're allowing 262.3 yards passing and giving up a 62.9 percent completion percentage through the air. They have given up 369.5 yards per game, which puts them 26th in the NFL during this season. They've conceded 15 touchdowns through the air and 11 on the ground.
Saints Betting Odds: New Orleans Stats
The Saints are 5-6 on the season this NFL season. When they last played, the New Orleans Saints suffered a 31-6 defeat against the Buffalo Bills.
The New Orleans Saints' Tony Jones carried the ball 16 times for 27 yards against the Bills, gaining 1.7 yards per attempt.
New Orleans' third-round selection, Lil'Jordan Humphrey, caught three passes for 47 yards (15.7 yards per catch) in this game.
The starting QB, Trevor Siemian (1 TD) finished with 163 yards on 17/29 passing and a 71.5 percent completion percentage. His average yards per pass attempt was 5.62 yards, and he threw 1 interception last week.
The New Orleans Saints defense allowed 32 rushing attempts for 113 yards (3.5 yards per carry). The Saints passing unit surrendered a completion percentage of 82.1 percent, giving up 248 yards on 23 completions in 28 pass attempts.
The Saints gained 190 yards in the game (3.3 yards per play), with 57 plays overall (1.8 yards per carry) rushing 44 yds on 25 attemps).
Dallas Cowboys at New Orleans Saints NFL Betting
The New Orleans Saints have an average of 309.4 yards per game play, which has them ranked 27th in the NFL. The Saints have rushed for 1,223 yards this season, averaging 111.2 yards per game on the ground.
The Saints' offense has given up 534 penalty yards on 65 infractions, placing them 21st in the NFL in terms of giving up free yardage.
They've thrown 7 interceptions and allowed opponents to recover 5 fumbles, but they've managed to get 118 first downs.
During the regular season thus far, the New Orleans offense has completed 2,180 passes for 21.8 yards per attempt and an average of 198.2 passing yards per game, which puts them 27th in the NFL.
The New Orleans Saints are currently 18th in the league with an average of 23.4 PPG, which is good news for them.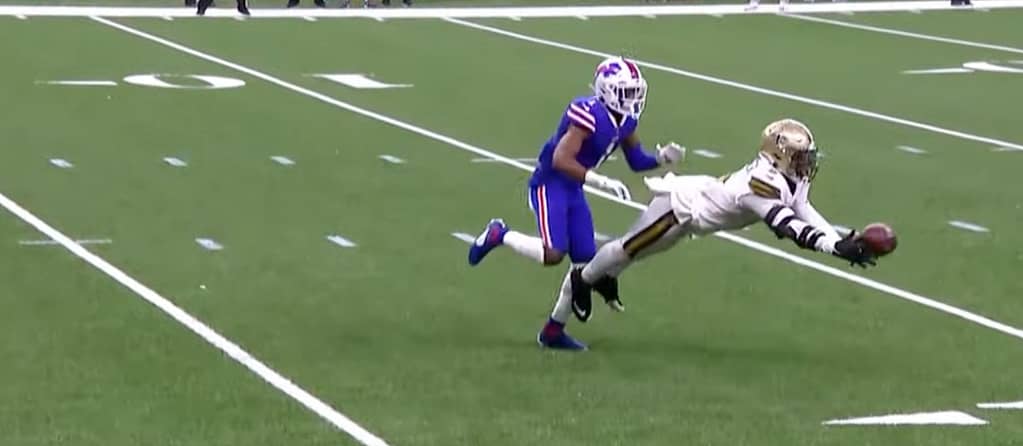 New Orleans Defensive Stats
For the season, the Saints defense has given up 1,011 rushing yards (91.9 per game) and 9 rushing touchdowns.
Given up 17 pass TDs as well as 251.8 yards on average in their games. It placed them in the bottom third of the league defensively.
Thus far, the New Orleans defense have 16 turnovers (3 fumbles recovered and 13 interceptions). They've given up 249 points this season in total.
The Saints have been on the field 698 times, which is 14th in the NFL. The Saints defense allows 22.6 points on average, putting them in 12th place.
What are your New Orleans Saints predictions and odds for the Thursday night football at Caesars Superdome in Louisiana?
Will Dallas run game puts Saints odds under pressure or will Saints be the best bet for the upcoming Thursday night football?
Who will win tonight's Cowboys vs Saints NFL match-up against the spread?
Our Pick: Take the Cowboys -5.5
Latest posts by Content-Manager-CA
(see all)