When it comes to most common boxing bets, you can wager on all kinds of things. Most new sports bettors are only aware that they can bet on the fight winner, but there are so many more options available to them. This not only makes betting at a boxing bout more fun, but it adds a ton of extra ways for people to make.

Below, you'll find a list of all the different types of boxing bets. We've reviewed each one in detail so that you can make an educated guess as to which bet may be best for your needs. We highlighted the most common bets on Boxing and provided specific data to underline our explanation, in order to help deliver best picks.

Boxing has a rich history of fierce competitors. Muhammad Ali, Mike Tyson, and Floyd Mayweather all had breakout careers in this sport. These athletes are often the ones that bettors look for when betting on boxing because these punches not only have to land but knock out the opponent.

In Boxing, it's important to have data on each fighter like strengths and weaknesses. We'll illustrate these points with our best betting picks for all weight classes.
How Do I Bet Online on Boxing?
Pick a Bookmaker
We explore betting on boxing. Boxing is a little trickier to bet one than most sports due to the different types of fights available (s​uch as heavyweight and cruiserweight) and the number of professional boxing organizations. We have created this site's gambling articles to provide you with current, up-to-date data for all types of boxing matchups.
Sign Up With a Sportsbook
The sign up process is simple and straightforward, and only takes a few moments. Just fill out the form with your name, birthdate and email address, deposit payment information if you want to make a pick or wager money, then confirm it before betting for the first time.
Deposit Funds
Before you choose a site, you have to choose the payment method. The most common methods are credit cards like Visa and Mastercard, e-wallets such as PayPal, Neteller, Skrill and debit card. Some sites also take cryptocurrency or Bitcoin.
Place Your Bet
Pick Boxing's fight, boxer and bet type, enter in a dollar amount, and then submit your boxing betting ticket. Then Bam! You're ready for some buttery boxing bets like Mr. Bean chowing on a burger at his own restaurant!
Most Common Boxing Bets: Moneyline
One popular boxing bet is the favorite to-win pick. This wager, also called a moneyline bet, is based on selecting who you think will win the fight. If your selected fighter wins then you win your desired amount; if they lose you lose that money.

It doesn't matter what the outcome of the fight is, when it ends, or anything like that. It doesn't matter if your fighter wins in a knock-out or just gets lucky. All that matters is your chosen fighter's victory no matter how they did it.

There is one area of this bet that might confuse people, and it's the payout. It won't make sense to every person because what you're paying for isn't always the same. The amount depends on how likely each fighter is to win. The more likely the fighter is to walk away with the win, the less you will get paid if you are correct. The less likely the fighter is to walk away with the win (the underdog), the more you will get paid if you are correct.
For this reason, it is often advantageous to bet with sportsbooks as they are incentivized by a balanced action on both sides of the fight. We've highlighted the most common wagers on boxing and provided detailed descriptions to help you understand how these bets pay out. A must-read for anyone who's looking to make money with boxing betting.
When you make a moneyline fight, you have to select the winner. The betting odds would start with something like this:
Apollo Creed -160
Rocky Balboa +130
For this example, we're using the characters of Sylvester Stallone and Carl Weathers in the Rocky movies because it is in our opinion one of the greatest movie collections about boxing. Battling for who will win a boxing match is all about betting on your favorite. In this example, Creed is favored and Rocky is an underdog. Underdogs are always represented with the plus (+) sign.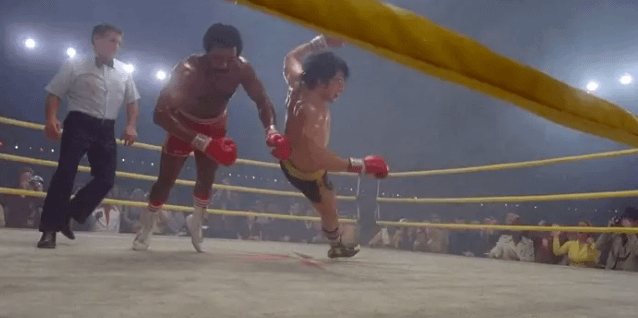 Moneyline Payouts
There are two scenarios to consider when betting on a boxing match. If you bet that Creed will win, and he does, your payout is $162.50 (you would also have to place the initial bet of $100). Rocky's winning matchup promises $230 in payouts so long as you place an original wager of at least $100. A dog is a riskier bet, but they are worth it because you can make more money when your pick "wins".

Some boxing matches are more difficult than others, with one fighter seen as the underdog. However, some matchups are hugely lopsided and sometimes you'll see lines like -10000. You would have to bet $10,000 in order to win $100. One example of a matchup with an overwhelming favorite was the September 2018 fight between Anthony Joshua (-1100) and Alexander Povetkin (+650).
Betting on Fight Ends
Though predicting who is going to win the fight can be lucrative, one of the most popular bets you can make may not have been something you were aware of. If you predict when the fight is going to end, are able to receive a cash prize based on your prediction. With these betting options, you don't need to make any educated guesses about the outcome of a fight. You just have to correctly predict whether a duel will for instance end by knockout or stoppage.
If you have two heavy hitters who are likely to end a fight, then the odds will be better than even for it going the full distance and less even on them being stopped in under 12 rounds. You might see underdog money on a fight that ends early, but lack of power and good chins are more likely to cause a fight to go the distance.
Over/Under Round Bets
Different betting options you'll see on Boxing are the over/under bets for specific rounds. For example, one option is to bet on whether a fight will end before or after round nine. In boxing, a single bet may require you to pick the winner of one fight. There are a variety of different bets, each with unique odds and payout rates based on how likely they are to win.
You will typically see either an over/under option or a round number when betting on boxing, but what you may not know is that there can also be multiple other options. These bets offer varying payouts, but that's understandable given the different probabilities of each option. You can earn a few extra bucks if you pick an accurate outcome for the match.

But, you may also see a number line like 9.5 rounds on that fight, which is actually a go the distance bet. You get an extra half round if it exceeds the 9.5 and lose half a round if it doesn't make it past that mark. These are bets where you may offer a different return for winning by a point or two, but they will give you more rounds to win with. Make sure when considering these bets that the payout reflects that difference in rounds.
Group Round Bets
One option for a more specific Boxing best bet is the group rounds. This type of betting isn't always available, but usually appears in bigger fights and higher profile fight cards. The group round bets allow you to choose the number of rounds in a specific breakdown that you think the fight will end with.
As we have explained for previous bets, our picks don't depend on who wins the fight or how they win. You will be a winner as long as your bet ends in one of the rounds we selected. When it comes to betting on boxing, taking a smaller bet but with more detail will provide you with better payouts. The more detailed the bet is, the higher the winnings can be.
Most Common Boxing Bets: Specific Rounds
In our last section, we discussed how the more specific you are with your bet, the higher chance of a return on investment. This is even truer with what is considered to be one of the most popular bets among betting circles-specific round bets. With this bet, you are going to be predicting which round of the fight will end for your winning combination. If that round ends as predicted, you will win money.

If you are confident that you know when a specific boxing match will end, then this is the type of bet to take. Of course, it is understandably tough to make such a precise prediction but if successful, your payout will be substantial. You can also bet multiple rounds on the same fight to turn a profit, but you have to be right in at least one of them.
Double Chance Picks
This type of boxing bet is related to the win-place and shows your chance for a two-way outcome. As well as your chance for victory on the regular to-win bet. A method of victory bet is a wager where you select whether the fight will end by TKO/KO or decision. You typically won't see this alone in boxing, it's technically a go to distance bet.

Double chance bets are a common betting option because they provide you with two chances, so if your first selection is unsuccessful, you can still have an opportunity at the winnings.
Fighter one by TKO/KO
Fighter one by decision
Fighter two by TKO/KO
Fighter two by decision
When playing a Double Chance bet, you must predict the fight winner and the way they win to be correct. This is why these bets should pay out an increased winning for players who correctly choose all parts of their wager.
Most Common Boxing Bets: Knock Down Special Picks
This is a popular wager that we wanted to highlight in its own section because of its popularity in this sport. With this bet, you will be betting on whether or not one fighter is going to knock down the other fighter at any point during the course of the bout. The premise of the bet is simple. The bet type you select will determine the amount of money you could win based on whether or not someone is knocked down.

Bets for boxing typically differ in payout depending on the likelihood of the event happening. You may see a general knockout bet placed, but you could also find betting odds that are shaped like a double chance where you would need to specify who would be performing the knockdown. Understand what type of bet will provide the best payoff before placing your wager.
Most Common Boxing Bets: Prop Bets
We outlined several prop bets in this guide. Prop bets are those wagers where you bet on whether something is going to happen during a fight or not. Can you guess what kind of bets these are? Would the fight go the distance? Did someone get knocked out in the ring? You get two answers to choose from for each question.
With the various props available, you might want to scout out different bookmakers for each fight before placing a wager on your favorite prop bet. The most common bets for boxing in recent years have been on the over/under on the number of rounds and rounds way.
Most Common Boxing Bets: In-Game Bets
The last type of boxing wager that we will cover is an in-game bet. These are bets that can be made after the opening bell has rung. This won't be available at a physical casino, but some online sportsbooks will offer this option. The way it works is that as the fight progresses new betting lines are released. These lines will be based off recent events in the fight.
The kinds of bets you can place during rounds won't be the same as those you can make before the match, like who'll win and when the fight is going to end. Usually if they're offering live betting, you'll have the opportunity to bet on these two things at least.

Betting on boxing can be a profitable venture, but it is not without its drawbacks. We highlight the most common boxing bets offered and provide specific data to support our explanation for these picks. Other bettors will also be reacting quickly to these bets, so it may not be easy to find value in a line that moves the wrong way thanks to bettors betting with their hearts instead of their heads.
Most Common Boxing Bets: Important Notes
It is important to note that not all betting types exist in boxing, and sometimes it becomes more profitable or successful for a gambler to limit themselves to one type of bet while ignoring the others. There is a widespread misconception that an assortment of bets will ensure profitability. This is not true.

We suggest you only use the types of bets that you feel comfortable with and which meet your criteria for a match-up. If at any point during the allotted time, you don't understand a specific bet type, don't click on it. If you're considering a bet, we show which ones are the most likely to win. However, even if one seems like a good idea and fits your strategy, that doesn't mean it is automatically a smart decision.

The Wrap-Up

We've highlighted some of the best bets for boxing to help you get a better understanding. Remember, not all these bets need to be used at once! After understanding the different types of boxing bets you can make. Choose a suitable sportsbook and be on your way to becoming the best boxer bettor you can be.