If you are interested in MLB betting and best MLB picks and odds, then you need to understand the different types of bets that you can place based off the game. With each MLB season, OddsFanatic receives countless e-mails requesting help learning how to wager on this sport. Odds Fanatic will provide you with everything you need to know about most common MLB bets and baseball odds.
Here, we've provided a breakdown of how to bet on the MLB odds. There are many different types of MLB bets: money lines, game totals, team totals, and run lines.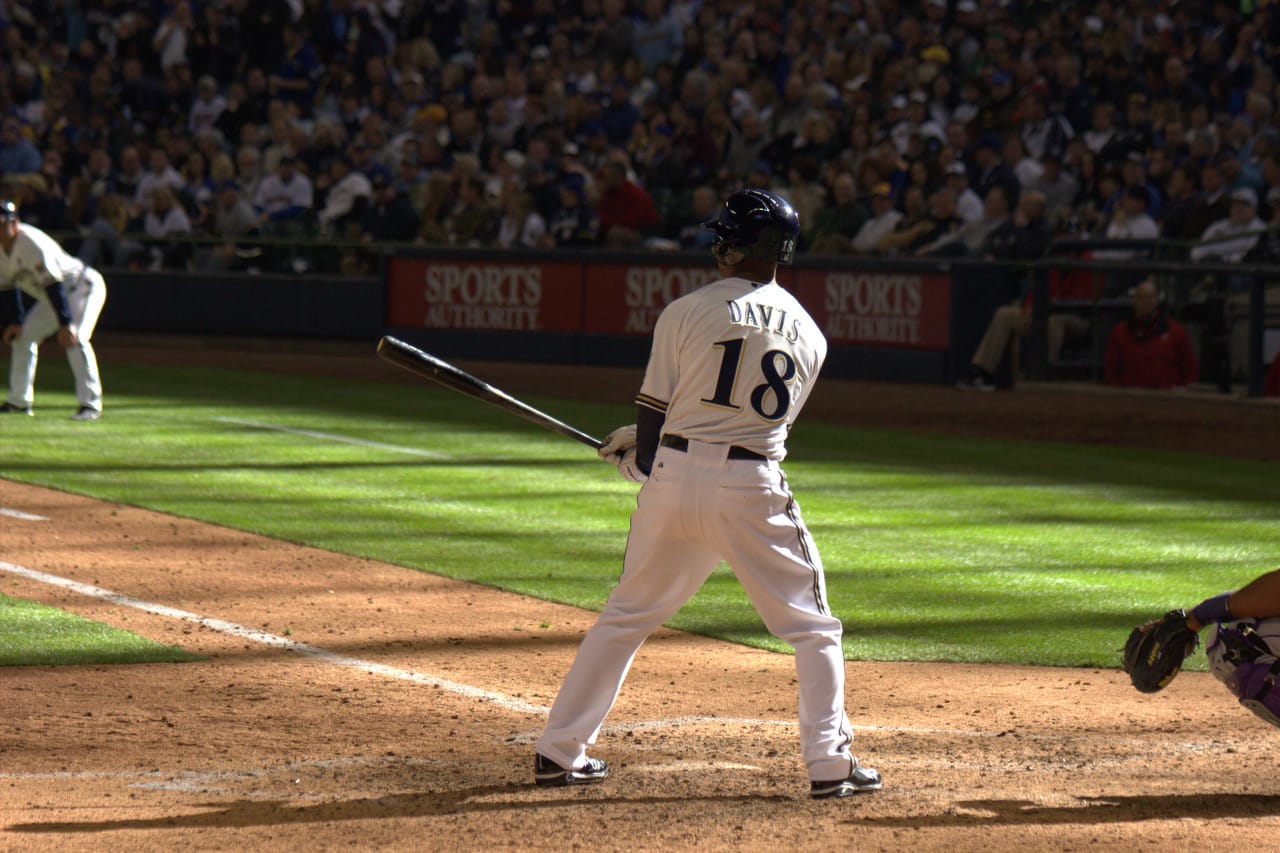 Basic Betting Options
Most Common MLB Bets: Moneyline
This is the most popular way bettors wager on baseball. A moneyline bet is a type of wager on the outcome of a baseball game with no consideration for a point spread.

In baseball betting, the away team is listed first or as being on top while the home team is second or on the bottom. The team with a (+) plus sign is the underdog. A (-) minus sign indicates who is favored to win the game.

For an underdog, the number behind the plus sign is how much you'll win if you bet $100. For a favorite, the number following the minus sign is what it will take to break even at $100.

There are two ways to bet on a MLB game. With pitchers, you bet based on who is playing and what the potential score would be for each team. If you list a pitcher with your bet and they don't start, the bet is cancelled and you will receive your original stake back.

You can also list the starting pitcher for your team, or the opposing starter. If you don't take either of those pitchers, it will bet on an "action" bet (which means that as long as the game is finished, this particular bet will be graded).
Example
Philadelphia Phillies +120

New York Mets -130

In this example, the Philadelphia Phillies are playing as underdogs on the road against the New York Mets. If you like betting underdogs, then taking Philadelphia to win a $100 bet would win you $120. If you wanted to take New York that same bet would cost you $130 and return just $100 in profit.

*In the example above, the odds are listed using dime lines. Typically, a dime line means that there is a 10 cent spread between the favorite and underdog; however, some bookmakers do this with 20 cents too.

If you play at a sportsbook with worse lines, like this one, it is unsurprising to see that your profits will dwindle over the course of a season.
Most Common MLB Bets: Total
A bet on the over/under is a wager in which you are predicting how many runs will be scored by both teams combined.

Oddsmakers set a total for all MLB games, denoted by the number of runs expected from both teams combined. You are betting on the two teams to score more or less than that number when you make your prediction.

When the game goes into extra innings, runs scored count towards the total. In that case, a tie is also counted as a push and you receive your stake back. All bets on a game that is suspended early will be considered a push if it does not go at least 9 innings or 8.5 if the home team is leading.
Example
Philadelphia/New York

OVER 8 -120

UNDER 8 +100

A bet on the OVER would win $120 for every $100 wagered, while a bet on the UNDER would only earn you back the original amount of your wager.
Most Common MLB Bets: Team Totals
This is a type of betting on MLB where you're only wagering the total runs scored in a game by one team. Once in a while you'll come across a pitching mismatch that gives you perfect odds.

Sometimes when one team has their aces pitching and the other team is giving an up-and-coming pitcher a shot, it's hard to feel confident betting over/under of total runs for both teams.

It is not uncommon for bookmakers to make you pay big juice on both sides of this wager, which decreases your chances of profiting over the long-run.

OddsFanatic helps you find value in the MLB odds. The key is finding value where it's not so obvious, such as in which individual team is under-valued facing an average starter with a certain wind condition or at home vs. on the road.
MLB Betting And Odds: Run Line
The easiest way to place and understand bets on MLB games is by using the "run line". The run line is a spread-type bet that shows the amount of runs a favorite needs versus the amount of runs an underdog needs in order for it to win.

Betting on the favorite will give you a runline at -1.5, meaning that said team needs to win by two or more runs in order to cover your bet. On the flip side of this, an underdog on the money would be listed at +1.5 runs to win a game outright or lose by just 1 run.
Example
Philadelphia +1.5 (-140)

New York -1.5 (+130)

Odds change drastically in MLB games due to the majority of them being 1-run affairs or seeing an underdog winning outright.

If you remember back to our last example where the Mets were -130 on the money line (risk $130 to win $100). If you were to play the -1.5 run on New York, you now get them at +130 (risk $100 to win $130). The only difference is that they must now win by at least 2 runs in order to cover the spread.

If you like the favorite to win, betting on a run line can help reduce your risk. For example, many favorites late in the season are -200 or more.

If you take the teams on a run line, you reduce the amount you have to wager compared to what you would win.
Other MLB Betting Options
Series Betting
As opposed to other sports, such as football or basketball where teams rarely play the same opponent in consecutive games, baseball teams have a series of 2-4 games against one team.

Some people prefer betting on specific games, but many avid gamblers rather make their picks on the series winner.

Odds are shown in a similar format to that of money line on an individual game, however favored teams will offer much better odds.

It's not uncommon for the stronger team to lose a game against a weaker opponent, but more often they'll win.
MLB Parlays
Parlay betting entails combining two or more bets. The only downside is if any of the bets doesn't win then you lose your money.

Betting on parlays is a popular way to reduce risk and increase payouts. The downside, however, is that the probability of winning a parlay bet is lower than betting individually.

Say you like 5 plays and they are all listed at -120. If you place a parlay of five teams, and go 4-1, you win $0. However, if you bet each game individually the set of outcomes might be something like $280 ($100 + $100 + $100 + $1000 – $120).
MLB Props
Bookies will offer proposition bets for a game as well as for an entire season. They may post odds on almost anything, such as how many strikeouts a player will have or who will win the MVP award.

Prop bets are fun, but they vary in value from sportsbook to sportsbook. Some bookies have higher betting limits on these types of wagers, while some offer only a few cents. It's important to understand how much your individual bookmaker will pay out so that you can make a profitable bet later down the line.
MLB Features
If you're looking for the best odds, try placing wagers on futures bets. The most common future bet is one on who will win the World Series, but you can place wagers on each division and pennant winner too. For example, a baseball bettor can bet on:
AL Pennant
AL West
AL East
AL Central
NL Pennant
NL West
NL East
NL Central
Teams to Make Playoffs
World Series
Most Valuable Player
Rookie of the Year
Cy Young
Home Run Leaders
Win Totals
World Series MVP
Futures bets require a large upfront expense and a significant portion of your bankroll is idle for 7 months.

This is why OddsFanatic recommends not making too many future bets before the season starts, as there's more money to be won in the games themselves.
Most Common MLB Bets: Season Win Totals
You can bet on future events like the MLB season totals. The oddsmakers set a number of wins for each team prior to the season starting and give you the option of betting over or under that mark.

With a bit of research, you should be able to find at least a few good bets this season. It's also important to remember that the books are not throwing out their initial numbers for totals randomly. Teams with a win total set at 78 when they only won 70 the previous year are more likely to have an over than under.
Most Common MLB Bets FAQ
What are MLB odds and how are they determined?

MLB betting is designed to even the action on both sides of a MLB baseball bet. Ideally, a sportsbook will receive an equal amount of bets on both teams for the MLB bet in question. The sportsbook will then profit approximately five to ten percent on the juice or "vig" regardless of the outcome.

What do betting odds of +200 mean?

If an MLB moneyline is a positive number (+200), then that means: betting $100 on a bet, and being correct would win you $200. A moneyline of +200 indicates that for every $100 wagered, you may win a maximum net profit of $200.

Why bet on negative odds?

Betting on negative MLB odds (e.g., -150) means you're a little more likely to win that wager because the minus symbol (-) is an indication that you're betting on the favorite. When betting on an underdog (+), or a team with worse odds, the payout will be better; but your chance of winning is lower.