With the change in game dynamics, a new system for analyzing and wagering on NCAA college football became imperative.
College football players can now be paid in open. Previously, the salary of a college athlete to make for themselves was at risk and made you subject to suspension if discovered. Now, with pay rolling out, the opportunity has opened up for these athletes and they are making some good money while still playing their sport.
The NCAA college Football Playoff is going to be bigger. Not this year and even not next year, but big changes are coming to it that will make one of the biggest sports tournament in America even more thrilling than it already is.
For all that college football is changing, the biggest change 2021 will see is bringing back good old times. Fans. Full stadiums. Live mascots. Pageantry! Tradition! Elements which make college football the greatest sport on earth, to watch and to bet on are back.
OddsFanatic is the leading authority on NCAA college football betting providing the readers with everything they need to know about it including information and predictions for the 2021 season as well.
Home-field Advantage Is Back In NCAA College Football
It was strange gambling on college games in largely empty stadiums, but we all got used to it. Let's be more frank: We from Oddsfanatic hated it, and we can imagine you did too.
Yet, it also afforded the underdog their moment. When an opponent faced a challenging road game in Happy Valley, which was empty last year, they were not kind to Penn State. The same can be said for Ohio State in Columbus and Wisconsin in Madison. In a limited season, neither was over .500 ATS at home.
With the NCAA set to start college football in 2021, home-field advantages and fans will be re-introduced.
Normally, you handicap matchups using the environment as a factor. This year, though, those environments will be more amped than usual.
An Array Of Talented New Quarterbacks In NCAA College Football
Though some of the top talent in college football is gone, Clemson, Ohio State and Alabama are all expected to be ranked in the top five despite losing Trevor Lawrence (drafted by Jaguars), Justin Fields (drafted by Bears) and Mac Jones (drafted by Patriots).
D.J. Uiagalelei and Spencer Rattler showed flashes of their potential last year for Clemson and Oklahoma, respectively. Sam Howell, who has posted video game numbers in the past, will likely do it again. All three are among the most popular bets to win the Heisman Trophy this season.
However, there are fresh faces in meaningful games, and we learn about these new players early on. No one can predict the next Zach Wilson or Joe Burrow. Once you see an early trend, bet on it while there will be money to be made before competitors catch up.
How Are The Chances For A Non-Quarterback To Win The Heisman Again?
Although it is typically a QB who wins the Heisman Trophy, we may need to open up our minds and consider that another kind of player might win the most prestigious college sports award again.
Although it seems unlikely that DeVonta Smith's glory will be repeated, we have now discovered that wide receivers also can win the Heisman.
Are Alabama Crimson Good Again To Dominate NCAA College Football?
It's hard to give an absolute answer, but read on and we'll try. It's a bit more complicated than usual.
Alabama has only lost four games in the past four seasons and have covered 30 of their 55 spreads. College football fans know what a fantastic head coach Nick Saban is and how far he carried this NCAA football team.
However, people are wondering if the team will remain dominant after losing 7 starters on their offense. Alabama lost its quarterback, Heisman winner wide receiver, running back deemed as one of the greatest to ever play at 'Bama. Another meaningful offensive line piece was also a question.
Is Alabama's Sophomore QB Good Enough?
Nonetheless, sophomore quarterback Bryce Young could find immediate success. The sophomore is a gifted player and seems like the perfect fit for new offensive coordinator Bill O'Brien. Watching him interact with this prominent coach will be fascinating.
Last year, this unit was up and down by Alabama's ridiculous historical standards. While it also lost pieces to the draft, a youthful group should be much improved. The defense should once again be a strength and furthermore a key factor to success. It's hard to imagine that the offense won't still be the driving force of this program due to its transition from Lane Kiffin, but an improved defense could make some noise.
One aspect that requires consideration is the schedule. Alabama travels to Texas A&M, Florida and Auburn and must face Ole Miss who was a bad matchup last year, in addition to playing Miami and LSU. It may also have Georgia as an opponent during SEC Championship Game.
But Alabama is Alabama. Well, nothing should surprise you. But I don't love this team at -170 to win the conference and am staying clear of their chances for a national championship as well.
Will This Be Georgia's Year In The NCAA College Football?
MAYBE.
In the last five years, Georgia has stacked its roster with talented recruits and will welcome back 20 returning starters this year.
While the defense has a great defensive line, which is better than it was last year, the offense's offensive line this season could be the best in college football and quarterback JT Daniels will likely develop rapidly.
Alabama is replacing a lot of important pieces, which has led to some fans discussing the possibility of this finally being Georgia's year. But their fans have gone through this conversation before.
At -425, betting on the team to win the SEC is not worth it. You can get a better return by betting Georgia to win the conference at + 225. They are the most well-rounded team in the country in our opinion.
Ten Games To Watch This Year
We may not agree on all of the games that will be must-watch in 2021 and that's how it always was and will be.
Out-of-conference games are very important, we would like to see more of them. Additionally, we'd also like for these games to be played on college campuses. We've compiled a list of the Top 10 NCAA College Football teams that you should watch out for.
Clemson vs. Georgia (Sept. 4)
When it comes to the College football odds, Clemson is being given a four-point advantage for their game against Georgia. OddsFanatic believes that both teams will make the college football playoffs.
Both rosters are filled to the brim with five-star recruits. Both teams have their eyes on a potential Heisman trophy as well, so this game should be great since it features a lot of talent. College football is what we come back for week after week.
Alabama @ Texas A&M (Oct. 9)
College football coaches Jimbo Fisher and Nick Saban have plenty of history. As recently as last year, Fisher made it clear that he's gunning for the throne from his current position at home, with one of the best crowds in college football and a roster which has certainly closed the talent gap. A&M are currently the underdog by double-digit odds. I expect that number to go down significantly, so this could be a great opportunity for A&M fans.
Oregon at Ohio State (Sept. 11)
We have an exciting matchup to look forward to this year! We missed out on it last year, though. This game will be played in a great college atmosphere between two schools with some of the best receiving groups in the nation – can Oregon slow down Ohio State's top talent wide receivers? It's difficult to judge how Oregon will manage against the overwhelming crowd. The 10-point spread is high for a game as anticipated as this one, but we can't wait to see it. (And we have every intention of laying down those points.)
Notre Dame vs. Wisconsin (Sep. 25)
Though Wisconsin are the slight favorites, this line can change in either direction before kickoff. Notre Dame will be without its starting quarterback while Wisconsin looks to regain momentum after a disappointing season. We are curious as to whether or not Wisconsin's defense will be as good as advertised. Notre Dame likely is too.
NCAA College Football: Oklahoma vs. Texas (Oct. 9)
We're thrilled. Steve Sarkisian was a bold hire and we really like what he has done so far in the conference. But despite this, Oklahoma has largely dominated the rivalry and the conference. Aside from the food at the State Fair of Texas and fans who nurture opposing school loyalties, watching two elite play-callers square off is riveting. At the moment, people are betting nearly twice as much on Oklahoma than they should. That feels like too much to us, but recent history says we might be very wrong.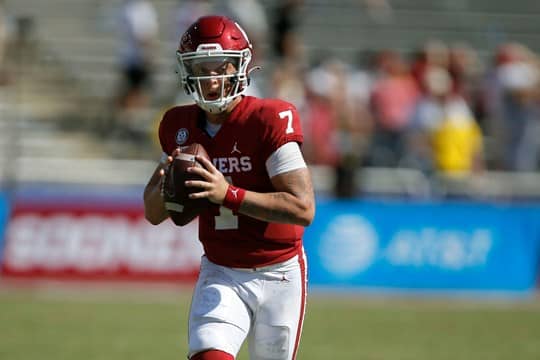 Miami vs. Alabama (Sept. 4)
While Alabama is expected to win by a large margin and history suggests that it won't be close and the 18 point spread reinforces this theme. The return of Miami quarterback D'Eriq King is huge, and he has the skill set that has previously tormented Nick Saban defenses. College Football analysts predict that Miami is not in a position to win against Alabama because despite losing some key players, Alabama's roster still manages to outshine it.
Auburn @ Penn State (Sept. 18)
What an idyllic game between two schools that have played each other only a few times before. The fact that this game will be taking place in Happy Valley is fantastic for all of us and one of the reasons the spread is set so high. For teams with mixed expectations heading into the year, this game is particularly important.
Florida at LSU (Oct. 16)
A penalty occurred during last season's game after a player threw a shoe. This is how this game was decided last season. While it may feel like a dream, college football playoffs are very real. The series is unpredictable, the teams are difficult to handicap and the stakes will be high as usual. The game is a toss-up at the moment. We'll learn more about each team before they meet in-conference later on.
Cincinnati Bearcats @ Notre Dame (Oct. 2)
If Cincinnati wants to make a run at the College Football Playoff, they must win this game. Coming off a one-loss season with their starting quarterback returning, there is hope. OddsFanatic would recommend taking the points with Notre Dame, even though they have been pegged as a small home favorite.
USC at Notre Dame (Oct. 23)
It looks like the Irish will be considered a field goal favorite, which feels about right. But last years glimpses indicated that maybe USC is finally rid of Pac-12 mediocrity. Kedon Slovis has the potential to be a star this year, and there is much to like about him. Meanwhile, this game is a highly anticipated matchup due to its importance and rivalry history.
Six Win Totals In College Football In 2021
NCAA College Football: Texas A&M Over 9.5
Even though the upcoming schedule includes games against Alabama and LSU, we think outside of these two games, the rest of the schedule will be manageable.
While the offense will need some work, the defense returns nine starters and should be among the best in the country. While they lost quarterback Kellen Mond, this should be a well-sculpted offense thanks to previous recruiting. According to 247Sports, A&M is rated as having top classes in the nation for 2021 and 2020 and fourth-best class of 2019.
The Aggies will most likely be undefeated entering the Oct. 9 game through the rest of their schedule, which includes games against Missouri, South Carolina, Auburn, Ole Miss and two more home games vs. Prairie View A&M & LSU.
NCAA College Football: Wisconsin Under 9.5
This team didn't have much success last season (4-3 overall and 3-4 ATS). Granted, we know it wasn't a great season last year, but we think that this team will have to work very hard to get back up into the victory rankings. The difficult schedule begins with three potentially loosing games during the first five weeks
One of the Badgers' more difficult games on schedule this year is its opener versus Penn State. They also have to play Notre Dame and Army, which may be losses.
They have 15 returning starters and should belong to one of the best defense group in the conference, but we worry about their offensive side. If more players cannot enhance explosiveness, the Badgers are likely winning eight or nine games per season.
NCAA College Football: USC Over 8.5
Although it remains to be seen if USC will put in a serious bid for the College Football Playoff, they have shown an ability to do well. Although a perfect season was ruined by Oregon in the final week, fans can finally be optimistic.
The schedule is favorable this year, and makes our odds look even better.
Game at South Bend will not be easy, but wins can be attained against Washington State, Colorado, Arizona State and Cal. Trojans also draw BYU in the final match-up of season with that team looking very different without Zach Wilson.
More specifically, 16 starters are back in addition to the return of offensive coordinator Graham Harrell who could have a tremendous impact on an offense that is poised to make another leap forward.
NCAA College Football: West Virgina Over 7
We know the Oklahoma game might not end well and neither might the Iowa State game. Let us discuss the box scores last year from both of those games that probably weren't encouraging. Although Oklahoma was canceled as an opponent, West Virginia did not fare much better when they played and lost against Iowa State 42-6.
West Virginia welcomes back 16 starters from a team that showed potential, outside of those two games. I like how coach Neal Brown has balanced both sides, particularly the defense which certainly needed it.
The season opener at Maryland is crucial for this team to hit the over. I believe Week 3 against Virginia Tech will be huge as well, and later on they'll win enough swing games (Texas Tech, at Baylor and Oklahoma State) to reach their seven-win goal.
NCAA College Football: Indiana Under 8
The schedule is particularly challenging. In fact, according to national standards, it is ranked as one of the top 20 toughest schedules on the docket.
Victories against Iowa, Penn State and Michigan won't come easily during road games. Also home games against Ohio State and Cincinnati are not easy either. The Hoosiers finished with 6-2 overall record along with 7-1 ATS last year.
Although the whole team is scheduled to return for this season, Ty Fryfogle stands out as one of Indiana's best players. Our prediction is that teams Indiana has beaten in the past will be better this season, and a lot of factors suggest Indiana won't be able to keep up the form from previous season.
Great story but OddsFanatic just sees the team regressing in 2020.
NCAA College Football: Texas Over 8
Whether he was blessed at the University of Alabama or not, it is striking that Sarkisian has evolved into a skilled coach. It's often overlooked that even though he takes over a good roster, his team will need time to train together.
Winning against a quality Louisiana team out of the gate is crucial. Oklahoma in the Red River Rivalry and Iowa State on the road will be trickier to win but both are still possible. The rest of the schedule has potential for more winnable games ahead.
Although it won't be an overnight success, the Longhorns will see results in the near future because of returning talent and their dynamic running back.
And we believe this turnaround will happen sooner than many predict.
Five Names To Pay Attention To In NCAA Schedule 2021
Justyn Ross (Clemson, Wide Receiver)
Prior to missing last season with a career-threatening injury, Justyn Ross was on his way to becoming a star. In 2018, as a true freshman, Ross delivered a 1,000-yard season and majestic highlight reel. In 2019 he had an impressive encore before missing all of 2020.
Clemson's outlook remains unclear, but the WR is optimistic about his future and his potential impact. At 6-foot-4, he could once again be a difficult matchup for opposing teams if indeed healthy.
C.J. Stroud (Ohio State, Quarterback)
A QB who many casual fans don't know is also +800 to win the Heisman this year. Such is the life of C.J. Stroud at Ohio State under Ryan Day.
Because Stroud has been on campus, played behind Justin Fields and received positive reviews, he's considered the favorite to win the job. Ohio State is loaded at QB but because they want a competition leading up to the year, Stroud will have plenty of chances to win this spot.
Garrett Wilson and Chris Olave are both widely considered to be among the best wide receivers in college football. Stroud, assuming he wins the job, has a chance to become a star.
Jack Sawyer (Ohio State, Defensive End)
We're doubling down on Ohio State and here is why.
In our opinion, Sawyer is the best true freshman in the country. He may face difficulty getting playing time with so many talented pass-rushers on the team roster. But his five-star recruiting status and being a homegrown prodigy from Columbus ensures that he will find a way onto the field.
Some players need to prove themselves on the field before being considered legitimate, but Sawyer's four-sack day in a spring game was an indicator of his massive potential.
Darnell Washington & Arik Gilbert (Georgia)
When Georgia's 2021 season begins, they will be equipped with two unique offensive weapons that could have major impact on NCAA college football.
Washington, being a 6-7 tight end and one of the most unique athletes to ever play that position. And believe us or not but we are not exaggerating. OddsFanatic has been watching him for years, and we have never seen anyone quite like him. While he flashed some abilities as a freshman, we expect that to become the norm now.
While at LSU, Gilbert was considered one of the highest-rated tight end recruits. He transferred to Georgia in the offseason. Georgia is expecting a lot out of Gilbert this year, as he reportedly will be able to play in both the wide receiver and tight end positions.
While the numbers might be smaller, both players will likely contribute and perform exceedingly well.
Jamey Chadwell (Coastal Carolina, Coach)
Chadwell transformed Coastal Carolina into one of the best stories of 2020 at just 44 years old, and he is likely to become a highly coveted coach soon.
Chadwell led his team to a record of 11-1 (8-3 ATS) last year. They'll welcome back 19 starters, and it's reasonable to expect another strong season. This will likely increase the program's efforts to keep him as it is expected that he will draw increased interest from other programs if he continues.
If you are a fan of a big school with an underperforming coach, make sure to tune in. That's one name to remember.
Latest posts by Content-Manager-CA
(see all)