In this guide, you'll be getting access to the 5 strategies that pro bettors use for increasing their win rate from predicting the outcome of sports events like NFL games. So if you want to start your journey in professional betting off the right way, check out these forecasts for future NFL prediction 2021/22 and Super Bowl odds.
NFL Online Betting: The Fundamentals
We won't be going into much detail on how and what to bet on for football because it would exceed the scope of this article. However, we want to quickly go through the main betting types that you need to know before betting on NFL games:
Point spread – When you place your bet, you need to predict which of the two teams will be victorious in a football game with a specific number of points. If the team you're betting on is playing as an underdog in that matchup, they have to win or lose by less than the spread's predetermined number of points for them to prevail;
Totals – As a type of wager, this betting option requires you to predict whether or not the total number of points from both teams will be higher or lower than what is specified by the bookmaker. The number set can vary depending on scoring, but it usually falls in between 35 and 50 for scores that are low in comparison to those that are high scoring;
Moneyline – In sports betting, the most common type of wager is "betting on the moneyline." With this type of bet, you only have to predict who will win outright and not what the final margin might be. This makes it easier for beginners to place a bet because they need not understand other factors like handicapping or over/under bets;
In-play betting – In-play betting is more fun and exciting than regular bets since it allows you to place all types of bets as the game unfolds. Because live betting odds change based on the performance of each team, this form of wagering has a higher degree of risk for newbies inexperienced with this type of bet;
Other types of bets – The beauty of sports gambling comes from the wide range of events and outcomes you can place a wager on. In NFL football, some alternative bets are futures and props. Props bets require guessing a non-winning event like first score or passing yards. Studies suggest there are hundreds of alternative betting types. Some of them are downright strange, like guessing the Super Bowl LVI halftime show performer or national anthem singer;
Be aware! In football betting, teams are called "underdog" and "favorite," which determine the potential payout of a specific wager. They are represented by numbers: negative for the favorite and positive for the underdog.
Research Team Statistics for NFL Prediction
For those looking for a beginner-friendly guide to betting on NFL prediction, the Internet is an invaluable resource. This includes sites that provide expert explanations of what these statistics mean and which bets are worth your time and money.
Being lucky is not a sustainable strategy in sports betting. Instead, it's best to do your research on each player and then compare head-to-head team performance when making a bet on football and NFL games.
Understanding team statistics largely depends on your football expertise. The more you know about the game, the higher your chances of getting a wager right. Our suggestion is to do research and make some test bets to see if this can bring you positive results.
Injury Reports As a Key Factor on NFL Prediction
If you've been following the NFL prediction for a while, you probably know that if an important player on the favorite team gets injured, the underdog suddenly has a higher chance of winning. Oddsfanatic interviewed a few professional handicappers to find out some tips for successful betting.
Their reply?
The NFL injury and roster reports available on the official website are a valuable tool for anyone looking to improve their odds of success. Use these at your own discretion, but they can sometimes provide information that you may not have access to elsewhere.
Recommendation: Understand which NFL players are at risk of injury by consulting the official NFL injury report. This way, you'll be able to properly predict how these players may fare in their upcoming games which will help you make better bets and get more accurate predictions.
Timing Your Picks Is Relevant
Before the Internet, sports gambling was limited to local bookmakers during business hours. Because the betting venue could not be open 24/7, you risked missing out on valuable wagers if you didn't get there at the right time.
Nowadays, thanks to mobile betting apps, you can wager from anywhere. If the odds are higher or lower than they were a few minutes ago, it might be worth waiting until another bettor alters the odds for you before placing your own bet.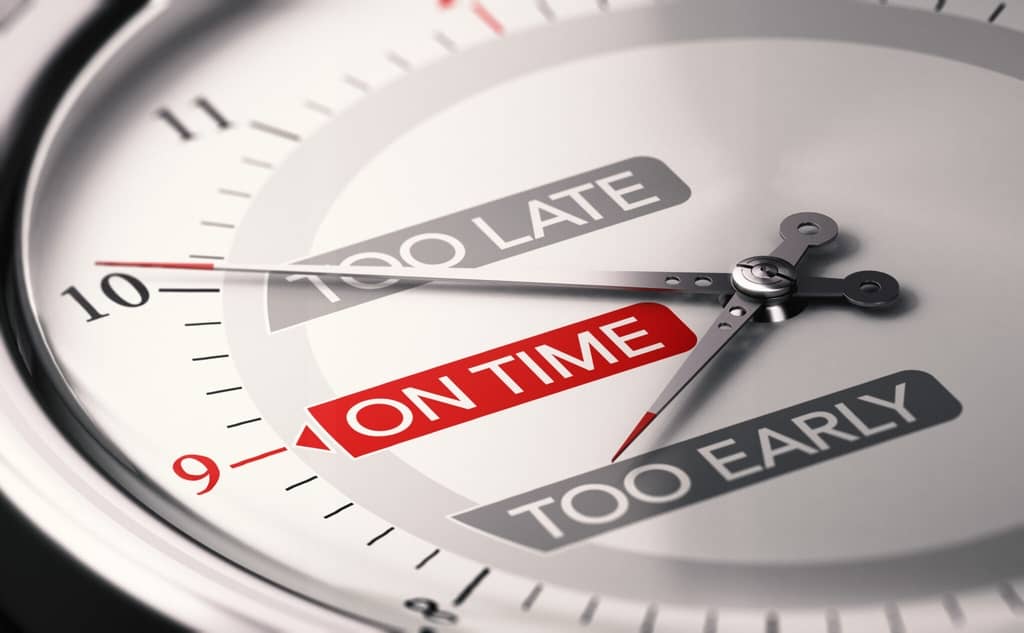 An Example For You
Suppose you are considering a prediction for the upcoming Patriots vs 49ers game. The odds that favor the Patriots have been set at six points. You can either place your bet on Patriots right away or wait and see how much higher they might rise before placing a bet.
Remember: You should only bet if you're certain that the odds won't change significantly in a few days.
Bankroll Efficiency While Betting on NFL prediction
Professional odds makers know that having a sound bankroll management strategy and getting a good grounding in fundamentals is crucial for long-term betting success.
A good way to keep your gambling habits under control is by keeping a separate budget dedicated only for betting. That way, if you run out of money, and without a choice you have to wait until the next gaming session begins.
Instead of diving in without a clear goal, you've set an amount that limits overbetting or falling for the gambler's fallacy. We recommend strictly using your money if you can afford to lose it, or that you would be willing to just flush down the drain.
Once you've set a bankroll and determined the percentage of your funds for each bet, remember that situations come up that will make you want to chase losing bets. Stop and take a break from betting if this happens to prevent irrational actions or decisions.
Shop Around To Find The Best Value On NFL
Line shopping refers to the process of comparing betting lines and picking the ones that offer you a best value.
Online bookmakers have competitive odds that are almost identical which is because they operate with similar algorithms. They constantly steal intel from competitors to stay ahead of the game and keep things fair for everyone in the market.
However, sportsbooks rely on different methods to lure in gamblers than offer the best odds. This may be due to an industry fad or for success rates at betting. Sports bettors who are looking to outsmart the market will seek for the best lines from several sources before they make their final selection.
Even though the odds might not seem that high to you, 0.5% could still mean a difference in every outcome.
Furthermore, the saying "the early bird gets the worm" applies to NFL prediction betting. Pro bettors understand this and will usually wait for odds to appear before placing bets. By doing so, they have an opportunity to get a discount (greater than normal odds) since many people are waiting instead of placing their bet or wager instantly.
Always Have Fun while betting on NFL prediction 2021
You won't always win so let's be honest about it. The essential element of betting on sports is to have fun. You'll sometimes make money but keep in mind that nobody makes the perfect decision.
We know that people are always looking for an edge in order to be successful with their betting.
Predicting the future is an impossible task, and that's okay. Sports betting shouldn't be considered a viable income source unless you're a professional gambler. Instead think of it as a recreational activity that gives you a chance to show support for your favorite NFL team while still having fun doing it.
How Will The Standings Look Like For The NFL Season 2021/22?
The Los Angeles Rams are still one of the favorites to win this year's Super Bowl, despite losing Cam Akers in the preseason. The injury has pushed their chances down to fifth-best behind Baltimore Ravens and Cleveland Brown.
This change then dropped Los Angeles behind the San Francisco 49ers in their chances to win the NFC West and the conference.
The Tampa Bay Buccaneers are still the team to beat in 2021. Fortunately, Akers' injury had little effect on the Rams' chances of winning it all this upcoming season. There is plenty that can happen before the year starts and we remain optimistic that Los Angeles has a legitimate shot at capturing the Lombardi Trophy.
Before the Rams can begin their unprecedented Super Bowl run in their own home stadium, let's take a look at how they match up against every other NFL team.
AFC East NFL Prediction
Bills (13-4)
Patriots (9-8)
Dolphins (8-9)
NY Jets (4-13)
Buffalo lost heartbreakingly in the AFC championship, but they have plenty of ways to go before they will catch up to Kansas City. Buffalo quarterback Josh Allen has improved every year and it is clear he could win an MVP award soon. Stefon Diggs' trade was one of the best in recent memory. It has been a key factor for quarterback Allen's ascension to greatness, and all signs point to continued success for the team, who could potentially make it back to Los Angeles in February.
Bill Belichick's mad, he might cut your sleeves off. The New England Patriots coach has earned a reputation as one of the NFL's finest executives in the league, and his work this offseason is not going unnoticed. Spending lots of money in free agency can be like giving your credit card to an unwise child. He needs all these players for a potential championship win.
Miami is building on a culture led by Brian Flores, and have missed the playoffs by just one game in 2020. Their quarterback Tua Tagovailoa will have his say as to wether he remains or becomes backup after an injury early in the season. The New York Jets traded away Adam Gase and his unnerving googly eyes. Rookie Zach Wilson will have more help than Sam Darnold ever did. The Jets are not going to be unwatchable like last season, but it'll take a while before they're considered ready for primetime.
AFC North
Browns (12-5)
Ravens (11-6)
Steelers (8-9)
Bengals (5-12)
Simultaneously, it feels exciting and strange to talk about how good Cleveland is. It seems like just a few seasons ago, as they won one game in two years. They grew up so fast! Their offseason moves will soon be forgotten as the preseason kicks off this week with them still at the top of their division.
The Cleveland Browns have an unfair amount of talent on the offensive and defensive sides of the ball. They could be a powerhouse in Super Bowl odds with some luck, which they should get considering Baker Mayfield has made the correct switch to Progressive.
Baltimore should do well given their talented quarterback Lamar Jackson, who has started his NFL career on a winning streak. They and the Browns will have a good shot at taking the North Division all season long. After starting 11-0, the Pittsburgh Steelers' decline is imminent. The Bengals are looking to spoil the Steelers plans for a second consecutive Super Bowl run and recent performances indicate they could do it.
They've added firepower in the draft by pairing Joe Burrow's LSU teammate Ja'Marr Chase with Tee Higgins and Tyler Boyd. But it may not make a difference for Cincy as they are nothing but cellar dwellers at least this coming season.
AFC South NFL Prediction
Titans (11-6)
Colts (9-8)
Jaguars (4-13)
Texans (2-15)
The Titans have already worn Derrick Henry's tires thin this year. With his work load, you can expect a setback as he tires out. Despite this, King Henry isn't human so I'll probably be very wrong about a guy who could push me into another dimension if he ever read this. Ryan Tannehill proved he wasn't a one-year wonder, and now he has Julio Jones and A.J. Brown catching his passes.
The Colts have yet another quarterback, Carson Wentz. He is filling in for Andrew Luck who coincidently has been on hiatus due to injury. Their opening slate of games will make-or or break them early on and their season hopes could be dashed before the first quarter finishes. Though this is not how to welcome a player like Wentz back from injury, Indianapolis has the league's best offensive line and an emerging defense. Led by the Colts, maybe someone can get through such an obstacle.
Urban Meyer and Trevor Lawrence will have a hard time adjusting to the pros coming from high school and college respectively. Lawrence's talent will help him adjust faster than Meyer who is used to similar levels of competition in Ohio State or Florida. The Houston Texans have a serious issue. They'll enjoy absolutely no success during the 2021 season. All we're going to say is that they've got nothing but disasters in their future and we don't want to go through them all, because it's not going to be enjoyable for either of us.
AFC West
Chiefs (11-6)
LA Chargers (9-8)
Raiders (4-13)
Broncos (2-15)
After watching Patrick Mahomes be chased down by the Buccaneers' defenders during the Super Bowl, it was clear that he needed something to protect him. Kansas City followed through with new starters on his offensive line as a result of following this advice. Besides wondering how his line will mesh, there's little doubt which team should be the favorite in the conference. This is the clear-cut favorite and could appear in their third straight Super Bowl game if they don't hammered like last year.
With a new head coach, the LA Chargers might make it to the wild card for their division. Their current state leaves room for improvement and with reigning Offensive Rookie of the Year Justin Herbert showing progress last season, success too. With both an offensive and defensive arsenal, as well as the apparent possibility of a fully healthy roster, this team could give any opponent a tough time. With so much promise on either side, it is hard to deny that they are a potential Super Bowl contender.
The Raiders have consistently fallen short of what they were expected to do, both this season and in previous years. The organization has not improved at all since last year, so the odds are low that this season will be any different. Denver has one of the best defenses in the league and the defense has the potential to compete for the Super Bowl Championship. The one unit keeping the Broncos in games will be their game of quarterback musical chairs. They'll have to decide between Drew Lock and Teddy Bridgewater, but no matter who starts under center for them they're going to finish with an average team at best.
NFC East NFL Prediction
Cowboys (11-6)
Washington (9-8)
NY Giants (4-13)
Eagles (2-15)
Jerry Jones has been vocal with his efforts to take the Dallas Cowboys to the Super Bowl. Amidst rumors and speculation about potential trades, there is a stark reminder of just how good their offense already is. CeeDee Lamb could be called upon as WR1 in place of Amari Cooper. Quarterback Dak Prescott might be a comeback player of the year candidate if he can bounce back from his injury. Defense cannot possibly be any worse than last year, but there's no point in expecting anything different from the Cowboys.
In comparison to the other divisions, the East division is easily the weakest. The teams are clustered at one end of the spectrum with Washington (despite their defense and offensive additions) near the bottom thanks to quarterback issues. I'm not sure how much magic can be coaxed out of Fitzmagic's beard.
New York needs new quarterback Daniel Jones to step up and play like he's capable of. Both the Giants and their fans are still waiting for Barkley to finally take his place in New York as a fully-fledged starter and Saquon should be able to provide some stability on offense, assuming he stays healthy enough to suit up all season. It will be difficult for this team to suffer through the normal stages of a season as they are beset by an abundance of growing pains. You can expect Jalen Hurts to show great potential if he has the chance, but the future for this team looks grim unless some new players are added.
NFC North
Packers (11-6)
Vikings (9-8)
Bears (4-13)
Lions (2-15)
The Packers have a huge asterisk by their name because no one knows what Aaron Rodgers is doing. Throughout the offseason, he has only been consistently vague about his future and dividing the fanbase. Green Bay's roster is both deep and talented. But that will be no help if they had to use a backup QB like Jordan Love or even worse, Blake Bortles.
The Vikings and Bears will alternate in their rankings this year. Minnesota has stud youngsters in Dalvin Cook and Justin Jefferson to build on. Their defense should improve, but this team might not be playoff caliber.
All the other teams might be wondering how long they can continue to rely on Andy Dalton before taking a chance on rookie Justin Fields, but they'll have to present some offense at some point.
Under first-year head coach Dan Campbell, the Lions will do their best to intimidate opponents. They won't be pushovers like they were under Matt Patricia, but Detroit is still too bad to matter in the standings. The team's most significant accomplishment this year might be providing a Thanksgiving without indigestion.
NFC South NFL Prediction
Buccaneers (11-6)
Saints (9-8)
Falcons (4-13)
Panthers (2-15)
The Tampa Bay Bucs have one of the best rosters in the league, but many fans do not agree that they're playoff contenders. They may not have any flaws, but it will be tough to repeat last year's success. Of course, this depends on who makes it to the postseason. However, as of right now heading into 2020, there is no other NFC team that has a better chance than Tampa Bay. Certainly an edge for them when preparing for 2021's playoffs.
The Saints will have a difficult time replacing Drew Brees as starting quarterback, but Sean Payton will do his best to work around the problem for now. Meanwhile, Atlanta should be able to put points despite trading away Julio Jones this offseason. Drafted rookie tight end Kyle Pitts will join best wide receiver Calvin Ridley to form a formidable duo for quarterback Matt Ryan to throw to. The Falcons have been abysmal at defense since blowing a 28-3 lead in Super Bowl LI, so expect the team to be playing from behind often.
Carolina will be competitive this year as they continue to rebuild. The Panthers (and fantasy owners) may need new quarterback Sam Darnold not to encounter any more ghosts. We appreciate what Matt Rhule is doing and this team appears to be on its way to a playoff spot. We just don't think they are ready for that stage yet.
NFC West NFL Prediction
LA Rams (11-6)
Seahawks (9-8)
Cardinals (4-13)
49ers (2-15)
The loss of Cam Akers is painful, but the LA Rams will be able to recover from his injury. They suffered a few losses on defense with Troy Hill, John Johnson and Michael Brockers joining team. Not every squad has Aaron Donald or Jalen Ramsey, so it's likely they'll be able to overcome these setbacks. Matthew Stafford is an upgrade at quarterback, and Sean McVay will open the playbook in his first year with deep shots galore.
The Rams already have a talented group of receivers in Cooper Kupp, Robert Woods, and DeSean Jackson newly-signed this off-season to take advantage of that new, aggressive mindset. Stafford's lack of playoff success in Detroit is often criticized, but that's the same franchise that drove Barry Sanders and Calvin Johnson prematurely into retirement. Matt can silence these critics by leading this NFC favorite to a deep playoff run. This will require traversing through an extraordinarily difficult trip through the tough wild NFC division.
As long as Russell Wilson is playing and Pete Carroll is coaching, Seattle will never be counted out. Arizona can make it to the Super Bowl with Kyler Murray at quarterback as long as he gives his team a chance for success each week. DeAndre Hopkins cannot bail him out by himself every game.
It is difficult to predict what San Francisco will do as they have been prone to injuries. The last time their team didn't have significant injury problems, they made it all the way to the Super Bowl. This team has a lot of potential but a lot can go wrong for Kyle Shanahan's squad.


Latest posts by Content-Manager-CA
(see all)