With many other sports taking place during this summer, the NFL has seemingly fallen off the radar. The NFL is generally exceptional at keeping up with events during the summer before OTAs, but we've heard little to nothing regarding controversy or noteworthy newsworthy stories. The draft in April was a disappointment, as it contained few of the big names we've come to expect over the previous several years. So, with the NFL seemingly asleep at the wheel, we wondered why not look at each team's chances of winning Super Bowl LVI based on what the futures board predicts.
Super Bowl LVI Odds
The Favorites:
Kansas City +500
Tampa Bay +650
Buffalo +1300
LA Rams +1400
Kansas City Super Bowl Odds
NFL futures odds show that the Kansas City Chiefs are still the favorites to win Super Bowl LVI, with +500 as the line. We still think Vegas is correct in betting on Kansas City. On offense, the Chiefs are and will continue to be an exciting and enjoyable team to watch, with Mahomes, Hill, and Kelce all returning for another season. The defense will be better than it was last season, and the offensive line that was decimated by injuries in the Super Bowl has been rebuilt, allowing Mahomes to stay upright more often than he did on that humiliating night back in February.
Tampa Bay Super Bowl Odds
The Buccaneers' chances dropped somewhat from where they were before the draft, and it's due to the fact that all of the other teams in the NFC are beating themselves. The Buccaneers are bringing back all 22 starters from their Super Bowl-winning squad, giving them a significant advantage over other NFC contenders. Tom Brady doesn't seem to be slowing down any time soon. And you can never count the Bucs out of any game with Tom Brady in command. With all of the Saints, Panthers, and Falcons having gotten worse since last year, this season's path to the Super Bowl will most likely go through Raymond James Stadium.
Buffalo Bills Super Bowl Odds
Well, Buffalo Bills, they should be contending for a return to the AFC's top spot once again at the end of the year. They have restored the bulk of their offense. The Bills will be in good hands with Josh Allen and Stefon Diggs leading the offensive charge. You have to like their chances against teams like the Ravens (can't win playoff football), Steelers (across-the-board problems) and other clubs such as Cleveland, Tennessee, or Indianapolis. In this market, the Bills are a must-see. Given their chances of winning the division and having home field advantage through the AFC title game, they're definitely worth a look.
Los Angeles Rams Super Bowl Odds
The Rams, on the other hand, made a big splash early in the offseason by trading for Matthew Stafford from the Lions in return for Jared Goff. The Rams have been looking for a long time for someone who can make deep throws consistently. With the weapons they have on both sides of the ball, the Rams should aim for a high seed in this year's playoffs.
The Contenders
Baltimore +1400
San Francisco +1400
Green Bay +1600
Cleveland +1600
New Orleans +2000
Seattle +2500
Denver +2500
Indianapolis +2500
New Orleans +2800
Dallas +2800
Tennessee +3000
Miami +3000
New England +3000
LA Chargers +3500
Pittsburgh +4000
Arizona +4000
Minnesota +4000
Atlanta +5000
Chicago +5000
Washington +5000
Carolina +6000
Super Bowl Future Bet
We at OddsFanatic believe that this is the range in which you'd seek to discover a winner if you're playing a future ticket since the odds are reasonable. You've got a number of playoff teams from last season, a few that were close to making the cut, and a couple that are anticipated to make a tremendous jump next year. The Rams moved up to the favorites tier, whereas the Packers dropped down into "contender" position.
If we were about to choose from this selection of teams, the Seahawks and Chargers would be worth a look considering their low price point. From the Seahawks' standpoint, Russ has committed to the team, and it will be up to management to put together the proper pieces. With Metcalf progressing even further in his career, and Lockett still playing at a high level, the Seahawks could get hot at the right moment and make a deep run. The Chargers are going to be an exciting team to watch.
At the position of quarterback, Justin Herbert is a force to be reckoned with. With weapons on each side of him, and a defense that will be fierce, they have the potential to challenge Kansas City for the division (if KC stumbles or suffers injuries) or will be right in the mix with a wild card spot and could make some noise in the postseason.
The Rest
Las Vegas +7000
Philadelphia Eagles +7500
New York Giants +7500
Cincinnati +10000
Jacksonville +10000
New York Jets +10000
Detroit Lions +15000
Houston Texans +20000
The NFL's basement is going to be a disaster. Nobody from this area has a chance of winning the whole thing. Las Vegas constantly finds new ways to beat themselves. The Eagles are moving forward with Jalen Hurts at quarterback and have few to no weapons around him, while the Giants should be better in 2021 owing to the return of Saquon Barkley. With Joe Burrow's return, the Bengals will be a lot of fun to watch. The Jaguars and Jets are both trotting out inexperienced starters, while the Lions and Texans are write-offs.
NFL Season Totals Predictions
We're only about two weeks away from the start of the 2021 NFL season, and we don't expect any major changes in win totals until then. This is why we thought it would be a good idea to cover the season win total of every squad in the league and give you our opinion on how we think they will perform.
| Team | Division | Division | Conference | Super Bowl | Reg Season Win |
| --- | --- | --- | --- | --- | --- |
| Arizona Cardinals | NFC West | +650 | +2000 | +4000 | 8 |
| Atlanta Falcons | NFC South | +850 | +3000 | +6600 | 7 |
| Baltimore Ravens | AFC North | +110 | +600 | +1200 | 11 |
| Buffalo Bills | AFC East | -190 | +500 | +1200 | 10.5 |
| Carolina Panthers | NFC South | +750 | +2500 | +5000 | 7.5 |
| Chicago Bears | NFC North | +600 | +3000 | +5000 | 7.5 |
| Cincinnati Bengals | AFC North | +2800 | +4000 | +8000 | 6.5 |
| Cleveland Browns | AFC North | +160 | +1100 | +2500 | 10 |
| Dallas Cowboys | NFC East | +140 | +1500 | +2500 | 9.5 |
| Denver Broncos | AFC West | +1200 | +4000 | +6600 | 7.5 |
| Detroit Lions | NFC North | +2500 | +400 | +8000 | 5 |
| Green Bay Packers | NFC North | -250 | +375 | +900 | 11 |
| Houston Texans | AFC South | +1300 | +5000 | +10000 | 4.5 |
| Indianapolis Colts | AFC South | +110 | +1000 | +2000 | 10 |
| Jacksonville Jaguars | AFC South | +900 | +5000 | +10000 | 6 |
| Kansas City Chiefs | AFC West | -350 | +225 | +550 | 12 |
| Las Vegas Raiders | AFC West | +1100 | +3300 | +5000 | 8 |
| Los Angeles Chargers | AFC West | +350 | +1400 | +3000 | 9 |
| Los Angeles Rams | NFC West | +180 | +600 | +1200 | 10.5 |
| Miami Dolphins | AFC East | +350 | +1200 | +2500 | 9 |
| Minnesota Vikings | NFC North | +300 | +2000 | +4000 | 8.5 |
| New England Patriots | AFC East | +450 | +2000 | +3000 | 9 |
| New Orleans Saints | NFC South | +220 | +800 | +1800 | 9.5 |
| New York Giants | NFC East | +400 | +3500 | +6600 | 7 |
| New York Jets | AFC East | +1200 | +5000 | +8000 | 6 |
| Philadelphia Eagles | NFC East | +600 | +2500 | +5000 | 7 |
| Pittsburgh Steelers | AFC North | +275 | +1400 | +3000 | 9 |
| San Francisco 49ers | NFC West | +200 | +700 | +1400 | 10 |
| Seattle Seahawks | NFC West | +250 | +1000 | +2200 | 10 |
| Tampa Bay Buccaneers | NFC South | -150 | +400 | +1000 | 11.5 |
| Tennessee Titans | AFC South | +120 | +1200 | +2500 | 9.5 |
| Washington Football Team | NFC East | +180 | +3000 | +6600 | 8 |
Arizona Cardinals: "Over/Under" 8 Wins
Despite all of the offseason transactions and drafting, the number remained static. That's in part due to the fact that Vegas doesn't believe in the coach or system, but it's also due to the fact that the rest of the division got stronger. The Cardinals will be a strong team. However, if they can't win their road games, they'll finish with a below .500 record in 2021.
Atlanta Falcons: "Over/Under" 7 Wins
The Falcons had a solid draft. Kyle Pitts was taken in the first round and everything appeared to be going well for the upcoming season. They subsequently traded Julio Jones for a slew of selections, leaving us wondering what's next. Are they capable of reaching eight victories? Sure, but the defense will have to make significant improvements.
Baltimore Ravens: "Over/Under" 11 Wins
The Baltimore Ravens are an enigma shrouded in mystery. They have almost everyone worth mentioning on offense back, and the defense should improve this season. However, they went 11-5 in 2020 when their schedule was the easiest in the league, and now face a more difficult schedule this year. It will be hard for them to win 12 games in the tougher of the two conferences. UNDER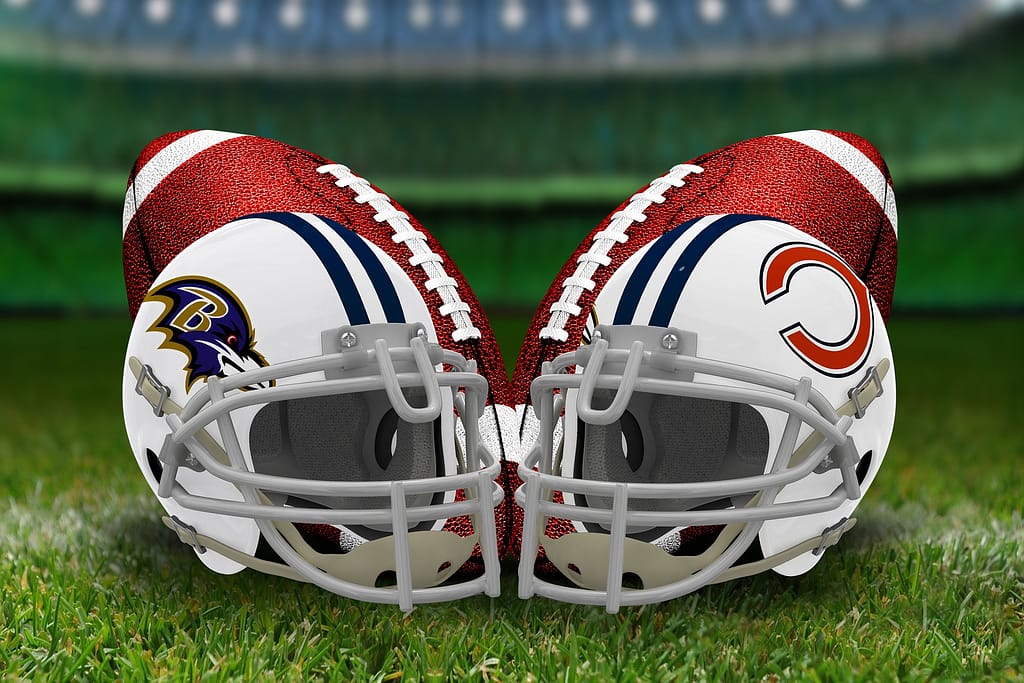 Buffalo Bills: "Over/Under" 10.5 Wins
The Bills ended the season with a 13-3 record only to be eliminated by the Chiefs in the playoffs. The Bills made some significant upgrades to their offense this year. They should be one of the league's top offenses for the second consecutive season, barring any long-term issues. Buffalo is capable of winning the AFC East, but it will require a lot of hard work and good fortune. A division title and an extra regular-season game to reach 11 victories are both likely.
Carolina Panthers: "Over/Under" 7.5 Wins
Sam Darnold and Christian McCaffrey are the team's two main acquisitions. It will certainly aid them in winning a few close ball games because of these players. With the Saints lacking a quarterback and the Falcons performing poorly, the Panthers might take a step forward and become the second-best team in their division.
Chicago Bears: "Over/Under" 7.5 Wins
Whatever the case may be, the Bears ended up with "their guy." They took Ohio State quarterback Justin Fields in the first round, but they refuse to accept that Andy Dalton is a non-starter. We're not sure why this is the case. The offense will most likely start out in the middle, and he should be able to provide a jolt. We believe they'll get to eight victories.
Cincinnati Bengals: "Over/Under" 6.5 Wins
While it was not the Super Bowl, Joe Burrow's impact on the Cincinnati Bengals in his first season was tremendous. The team was blossoming and gaining confidence until an injury derailed the campaign. He has a chance to start Week 1 under center, and that will be very beneficial for the offense. The total is low, however the extra game could help them reach seven victories.
Cleveland Browns: "Over/Under" 10 Wins
These aren't your parent's Browns, in our opinion. Despite losing OBJ for the year and going through the COVID, they won 11 games last season. The Browns bolstered their defense in the offseason, and they should be considerably better than usual in the AFC North.
Dallas Cowboys: "Over/Under" 9.5 Wins
Dak Prescott and Zeke Elliott are back, but Mike McCarthy is still the head coach. That might be their downfall yet again. That, or the run defense that was historically awful last year. The only thing that might save the Cowboys is if they finish first in a weak division. Can they reach ten victories? Perhaps.
Denver Broncos: "Over/Under" 7.5 Wins
The Broncos are in big trouble unless they get Aaron Rodgers. Teddy Bridgewater is an upgrade over Drew Lock, but he's still the weakest QB in the division. The Broncos were one of the worst offenses in the league last season, and they don't have what it takes to compete within the AFC West. It will be difficult for them to win eight games.
Detroit Lions: "Over/Under" 5 Wins
Jared Goff is a step down from Matthew Stafford. The team also has a first-year head coach. How will the Lions get to six victories? The Detroit Lions are expected to go 1-5 in the division and head for a very high pick in the next year's draft.
Green Bay Packers: "Over/Under" 11 Wins
Will Aaron Rodgers stay in Green Bay this season? Or will he leave? That's the most pressing issue. If he stays, how committed will he be? Despite this, we are going to take an UNDER on the Packers simply because they have not met our expectations.
Houston Texans: "Over/Under" 4.5 Wins
Will he play? Or won't he? Deshaun Watson is in the midst of legal problems, and the big question is whether or not he'll play. The Texans could win five games if he does. If he doesn't, you're going to have a tough time finding any betting value on them for the rest of the year.
Indianapolis Colts: "Over/Under" 10 Wins
The Colts have a long history of surprising their fans and regularly posting double-digit victories. We don't know if they've improved or regressed from last year's team, which made the playoffs. They have a difficult division this season, and the out-of-division schedule is not an easy one. We'll take the UNDER as our shot.
Jacksonville Jaguars: "Over/Under" 6 Wins
Urban Meyer and Trevor Lawrence won't be enough to get the Jags to seven wins. The offense will undergo some growing pains, but the defense has been bolstered. Tough division and tough road games this year. Look for a 6-11 type season. UNDER.
Last Super Bowl Runner-Up Kansas City Chiefs: "Over/Under" 12 Wins
The Chiefs will once again be a great team this season. The division they compete in has improved somewhat, but the are still at the top. The Chiefs should have no trouble reaching 13 victories once again, with a furious Mahomes and an energized offensive line. Probably Super Bowl bound? Yes. OVER
Las Vegas Raiders: "Over/Under" 8 Wins
We'll always be pessimistic about the Raiders' chances until they prove to us that they won't shoot themselves in the foot. The extra game this season will assist them in reaching eight victories, but it will still be a difficult road for them to reach the playoff picture. UNDER
Los Angeles Chargers: "Over/Under" 9 Wins
The Chargers are a team to put a bet on this year. They have a competent quarterback, a decent rushing attack, numerous weapons across the receiving corps, and an outstanding defense. Can they take down Kansas City, which has dominated the AFC West for over a decade? It's doubtful, but we see this squad winning 10 games and making the playoffs.
Los Angeles Rams: "Over/Under" 10.5 Wins
You have to upgrade your quarterback whenever you can. The Rams did just that by adding Matthew Stafford, who is a better passer than his predecessor. The defense continues to be solid, and they may well be on their way to winning the division.
Miami Dolphins: "Over/Under" 9 Wins
Things are beginning to turn around in Miami. Last season, the Dolphins won ten games despite starting more rookies than any other team in the league. The Dolphins have added Will Fuller to make their offense more powerful. And if he can stay healthy, it will be a big asset. They also added Jaylen Waddle to the receiving room, giving Tua a trustworthy receiver on the outside. The figure is correct, so we'll move on.
Minnesota Vikings: "Over/Under" 8.5 Wins
The Vikings are a mystery. They have all of the tools necessary to compete with the big boys, but they seem to come short every year. The Vikings' defense added a lot of good pieces to combat the Packers, but even with the added game, we don't see them reaching nine victories. UNDER
Super Bowl Winner 2019: New England Patriots: "Over/Under" 9 Wins
We were critical of the Patriots last season, and we'll be critical of them again this year. Despite the additions of Hunter Henry and Jonnu Smith, the Patriots have a scarcity of talent to work with. With the uncertainty surrounding Cam Newton, and even the selection of Mac Jones not assuaging concerns for Patriots fans, it will be a long year in Gillette Stadium. Take the under.
New Orleans Saints: "Over/Under" 9.5 Wins
Do they have a solid head coach? Yes. Do they have solid weapons on offense? Yeah. Do they have a good QB? Nope. The Saints will suffer as a result of losing Drew Brees early in the season, as Winston and Hill are simply not good enough to lead a franchise. Our prediction is UNDER on their win total.
New York Giants: "Over/Under" 7 Wins
The season of the Giants was effectively over when Barkley went down for the year. He should be back in the lineup to begin the season, and the addition of Kenny Golladay from the Lions is huge. They also went out and took a receiver named Kadarius Toney from Florida. We'll assume the Giants have a solid enough defense to keep them in games, so we'll expect them to score enough points on occasion to get to seven victories.
New York Jets: "Over/Under" 6 Wins
The Jets have a new coaching staff and a young rookie quarterback, so everything should be fine. We actually adore Zach Wilson, but it'll be a long year for the BYU product and another losing season for the Jets, Jets Jets Jets.
Philadelphia Eagles: "Over/Under" 7 Wins
Do you have enough trust in Jalen Hurts? We do not. As a result, we're going UNDER. The Eagles have just one offensive weapon in newly drafted DeVonta Smith. He'll do his part, but the Eagles' defense is abysmal, and they could well be the division's worst.
Pittsburgh Steelers: "Over/Under" 9 Wins
We don't think it's a good idea to count the Steelers out before the season even starts. They also have an aging and frequently injured quarterback, a rookie running back in Najee Harris, and a rather unimpressive receiving corps. The AFC North will be a competitive division. Unless Ben Roethlisberger regresses, the Steelers may miss the playoffs for a third time in four years.
San Francisco 49ers: "Over/Under" 10.5 Wins
The 49ers suffered a season cut short by injuries, just like the Cowboys. A strong lineup is deadly, but we don't anticipate them going on to 11 victories next season when each team in the division has improved. On the offensive side of the ball, they must also deal with a quarterback controversy with Trey Lance as the third overall pick. Under.
Seattle Seahawks: "Over/Under" 10 Wins
It's difficult to predict how the Seahawks will perform this year. Despite having no running game or offensive line, they've won at least 10 games in six of the last seven years and nine victories last year. Could they accomplish it? Sure, but don't bet the ranch on it.
Super Bowl Winner: Tampa Bay Buccaneers: "Over/Under" 11.5 Wins
The Buccaneers have a lot of returning starters on both sides of the ball, and that's remarkable. With the Saints declining, they will most likely not go 0-2 against them. There's also the fact that Tom Brady has one year under his belt with a new system in Tampa. We expect a trip to the divisional title and a 13-win campaign.
Tennessee Titans: "Over/Under" 9.5 Wins
The Tennessee Titans are another team that continues to surprise on a yearly basis. In each of the previous four years, they've won at least nine games. The offense has stayed fairly constant, with the exception of the significant addition of Julio Jones. If the Titans can figure out their defense, they'll be a terrifying opponent to beat.
Washington Football Team: "Over/Under" 8 Wins
You can't believe that Ryan Fitzpatrick will be the starting quarterback for the Washington Football Team this season, right? Even an additional game may not be enough to ensure that the Football Team wins nine games. The defense is solid, but the offense sputtered at times last season. UNDER
Latest posts by Content-Manager-CA
(see all)