Stanley Cup 2021-2022 will be interesting as ever and this is what you should know to have the best NHL picks and odds for hockey in Canada and USA.
The NHL will resume its regular schedule this season, after cutting two seasons short owing to COVID-19 concerns and reorganizing its seven Canadian-based clubs into one division for ease of travel. The current divisions will return, as well as Seattle being added to the Pacific and Arizona being re-located to the Central for a total of 32 teams. The regular season will last 82 games, but the campaign will be paused to allow players to participate in the Beijing Winter Olympics for their country. Many clubs are feeling the pinch of the flat salary cap, which is a result of reduced income. Some, on the other hand, are better at managing their talent than others. Here's how they look to begin the season: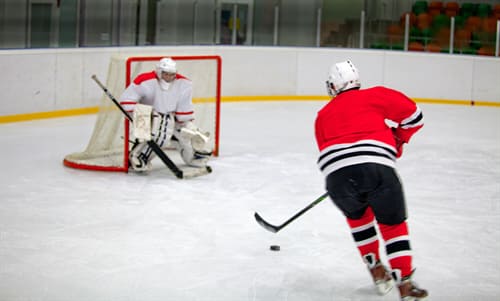 Stanley Cup: The Contenders
1. Tampa Bay Lightning
Their reign will last until dethroned. Tampa Bay added a little bite to their finesse game by signing right wing Corey Perry, who still has plenty of snarl in his tank at 36. The issue of the salary cap being raised has caused them to lose their entire third line, but they have a ready-to-play group of youngsters.
2. New York Islanders
The Islanders lost Game 7 of the semifinals to Tampa Bay last year. Signing forward Zach Parise, the son of former Islander J.P. Parse, and 44-year-old defenseman Zdeno Chara doesn't appear to be enough to push them over the top. However Lou Lamoriello has already earned the benefit of the doubt.
3. Colorado Avalanche
The Avalanche lost depth up front and Philipp Grubauer as a free agent in the offseason, but they've still been a popular Cup pick. However, they have a lot of work to do. Cale Makar is an excellent defenseman, but the talented team must show that it can win championships.
4. Toronto Maple Leafs
Since 1967, the Center of the Hockey Universe has been waiting for a championship. Last season, the Toronto Maple Leafs came up short again after blowing a 3-1 series lead against Montreal. Win the entire season and take home the Stanley Cup, or disband the team.
Check the NHL odds with our recommended sportsbook in Canada, Sports Interaction.
5. Florida Panthers
They've got a lot of offensive stars and scoring punch in their top six, as well as stability from Aleksander Barkov signing an eight-year contract. Aaron Ekblad's recovery from a broken leg will be critical, as will the performances of goaltender Sergei Bobrovsky.
6. Carolina Hurricanes
The Hurricanes rebuilt their defense after losing Dougie Hamilton as a free agent and formed a new tandem, which includes Frederik Andersen between the pipes. There will be a lot of attention on center Jesperi Kotkaniemi, who was lured away from Montreal with a one-year, $6.1-million offer sheet.
7. Vegas Golden Knights
It's possible that choosing Robin Lehner as their primary goaltender over Marc-Andre Fleury was a poor bet. Their inability to score cost them their semifinal loss against Montreal, and they didn't make any significant modifications.
8. Boston Bruins
They'll miss playmaking center David Krejci, who departed for the Czech Republic, and they're banking on Charlie Coyle to take over for him. Tuukka Rask will miss the season until December after hip surgery, therefore split duties will be shared between Jeremy Swayman and Linus Ullmark, both of whom are largely inexperienced.
9. Washington Capitals
The Capitals are aging badly. Center Nicklas Backstrom (hip) will miss the start of the season due to a hip ailment, while left wing Alex Ovechkin (seventh in NHL history with 730 goals) hurt his lower body during training camp. This is the core group's last chance at winning another Stanley Cup title.
10. Edmonton Oilers
The Oilers have enough talent on the roster to challenge for the Stanley Cup. They return two of their top three scorers from a year ago in Connor McDavid and Leon Draisaitl. Despite this, the team has yet to create a solid supporting cast. They must eventually take that next step forward and pursue a long playoff run.
Stanley Cup 2022: The hopefuls
11. Winnipeg Jets
The Jets addressed their needs on defense by obtaining Brenden Dillon and Nate Schmidt. That should alleviate the pressure on standout goalie Connor Hellebuyck, who has been solid and durable throughout the year.
12. Dallas Stars
The return of Tyler Seguin (hip surgery) and Alexander Radulov (core muscle surgery) should improve their offense. It's a no-brainer to acquire Ryan Suter, who was released by Minnesota after he and the Wild couldn't agree on a new contract. Keep an eye on Arcadia native Jason Robertson, who had 17 goals and 45 points in 51 games last year and was second in rookie of the year balloting.
13. Chicago Blackhawks
They appear to be focusing on the middle after signing Tyler Johnson from Tampa Bay and welcoming Jonathan Toews back from chronic immune response syndrome. However, they're rather thin around the edges. The defense will be steady with Seth Jones on board. They have the potential to be an exciting club if they can avoid the kind of injuries that test their depth.
14. Pittsburgh Penguins
The Pittsburgh Penguins' Evgeni Malkin (knee) and Sidney Crosby (wrist) are projected to miss the start of the season. The Penguins have been eliminated in the first round the past three years, so there's a lot at stake for them to win again before Crosby (34) and Malkin (35) turn into geriatrics.
15. New York Rangers
They're all in for the kids. They've got some decent ones, beginning with 23-year-old Adam Fox winner of the Norris Trophy. It's very unlikely that Alexis Lafreniere, the No. 1 pick in 2020, will spend time on the bench. The new coach, Gerard Gallant, will encourage them to play an up-tempo style of hockey.
16. Minnesota Wild
With four years left on each player's 13-year contract, the Wild wrote off a double blunder by acquiring Suter and Parise. Their young star, Kirill Kaprizov (27 goals, 51 points), is now their foundation. He has just completed a five-year, $45-million contract.
17. Los Angeles Kings
It's time for them to move on from rebuilding and enter the make-the-playoffs stage. The Kings are banking on their top two centers, Anze Kopitar and Phillip Danault, being defensive-oriented, which means they'll need youth to score. Gabe Vilardi appears set for a breakout campaign.
18. St. Louis Blues
The opportunity to win the Stanley Cup in 2019 has now officially closed for them. Worse yet, Vladimir Tarasenko has requested a trade but remains on the team, creating potential friction.
19. Montreal Canadiens
Shea Weber will not be in the Canadiens' lineup when they open the season. He is suffering from leg ailments that might cause his career to come to a close. Carey Price, who got into the NHL/NHL Players' Assn. psychological wellness program as a result of mental illness problems won't be available for selection. Oddsfanatic is wishing them both better days.
20. Vancouver Canuks
The Canucks are hoping that center Elias Pettersson and defenseman Quinn Hughes, who were delayed in training camp over financial concerns, will have good starts. Thatcher Demko is a standout, but he will need more help than the Vancouver defense can provide him.
Stanley Cup title won't come in this decade
21. Seattle Kraken
The Seattle Metropolitans of the now-defunct Pacific Coast Hockey Association became the first American team to win the Stanley Cup in 1917. The addition of Kraken won't be awful, but it will not be as successful as the Golden Knights' 2018 Cup run.
22. Philadelphia Flyers
Carter Hart wasn't the solution to the Flyers' decades-long goaltending problems so they've signed Martin Jones as a backup. They might go from bad to worse.
23. Nashville Predators
It's clear the Nashville Predators are looking to the future after trading defenseman Ryan Ellis and winger Viktor Arvidsson. They'll have a hard time qualifying for the playoffs in the Central Division.
24. Ottawa Senators
There is light at the end of the tunnel for the Senators, given their talented prospects (including productive defenseman Thomas Chabot). They haven't been able to sign restricted free agent Brady Tkachuk, which is a problem.
25. New Jersey Devils
Goalie Mackenzie Blackwood is unvaccinated, which means he will be unable to play games in Canada. He has declared his intention of getting vaccinated at some time. The Devils lacked a solid pillar defenseman, but they acquired one in Hamilton, who was signed as a free agent.
26. Calgary Flames
They will have a full season of coach Darryl Sutter. It will soon become clear whether or not that's a good thing; the Flames were 15-15 after he took over for Geoff Ward. The Flames will need more from Sean Monahan (10 goals, 28 points in 50 games) and will miss Giordano on defense.
27. Columbus Blue Jackets
They made a lot of changes, including bringing in Jones and replacing taskmaster coach John Tortorella with Brad Larsen. They're still in the early phases of recovery.
28. Anaheim Ducks
Defenseman Jamie Drysdale and Forward Trevor Zegras are two players to keep an eye on. They'll mature fast on a team that was last in power-play efficiency and scoring. The team's goaltending situation is a mess, with John Gibson getting little support.
29. Detroit Red Wings
The Red Wings also need additional offense. They also need to see if Alexander Nedeljkovic's success with Carolina last season was a one-time thing.
30. San Jose Sharks
They've invested $26.5 million in defensemen Karlsson, Burns, and Vlasic, who had awful seasons in 2020-21. The Sharks will be in a full-scale rebuilding mode.
31. Arizona Coyotes
The Coyotes have been informed that they would be evicted from Gila River Arena after the season, adding to a lengthy list of blunders and mistakes. Arizona Coyotes have been relocated from the Pacific Division to the Central, allowing Seattle to participate in the Pacific. The Coyotes, like the Jets and most NHL teams in recent years, swapped a top-pairing blue-line talent in Oliver Ekman-Larsson for assets and draft picks.
32. Buffalo Sabres
The controversy over how Jack Eichel was treated for a herniated disk in his neck has escalated. The only option is to trade him, but his injury is severe enough to imply future restrictions on his ability to play. Fans in Buffalo deserve better than they've been getting for a long time.
Latest posts by Content-Manager-CA
(see all)